Audio Book
(from the public library)
Magyk by Angie Sage
Narrated by Allan Corduner
The 7th son of a 7th son is switched at birth.
Charms, potions, spells, bogarts, villains, wizards, and brownies.
A world full of magic and mist.
Terrific narrator!
Great fun.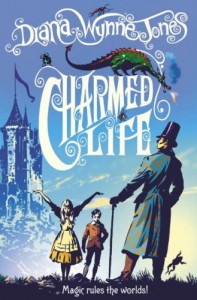 Audio Book
(from the public library)
The Charmed Life
by Diana Wynne Jones
Orphans, "Cat" and sister, Gwendolen, are taken in to the castle of Chrestomanci.
Magic lessons, potions and spells, other worlds.
Not all is as was expected - is it ever?
Narration was top notch!
(There's nothing like an upcoming due date and possible fine to move a book to the top of the TBR pile!)
Left for Dead
by J.A. Jance
Ali Reynolds (I have never really liked her, but she redeemed herself in this book.)
Two stories intertwined from page one.
Border issues, hometown flavor, real places.
Although I solved the mystery much too soon I enjoyed the ride all the way to the last paragraph.
Enjoyable 4th of July reading.
(Library edition)
The Little Prince
by Antoine De Saint-Exupery
A pilot, stranded in the desert, meets a a little boy who is prince on a small planet.
"Grown-ups never understand anything by themselves, and it is tiresome for children to be always and forever explaining things to them."
"Here is my secret. It is very simple: It is only with the heart that one can see rightly; what is essential is invisible to the eye."
"But the eyes are blind. One must look with the heart.. "


And my favorite of all quotes-----
In one of the stars I shall be living ,

In one of them I shall be laughing.
And so it will be as if all the stars were laughing when you look at the sky at night
~~ Antoine de Saint-Exupery

More than 5 sentences but worth it!
Gosh, I love that book.

Good reading around this OK Corral.
Now back to my regularly scheduled Book Group book.