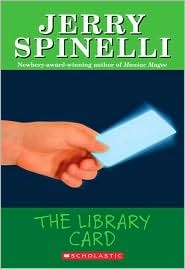 In honor of National Library week and Battle of the Books I read two new stories....

Four short stories of how a small blue library card changes the lives of kids who discover it. That's what Newbery winner, Jerry Spinelli crafts
in his book,

The Library Card

.

There's Mongoo
se, a school-skippin', graffitti artist who's destined for more trouble until he discovers the small blue library card and the secrets it holds.

Brenda, the TV addict (think Mike-Teavee of Willy Wonka fame) has to endure the Great TV Turn-Off for a week. The library card
turns up next for her.
Sonseray, a homeless, angry teenager knows he can find peace and quiet and air conditioning in the library. The blue library card is his ticket in.

April is lost without her connection to her old library. In her new rural home she feels lost. To soothe her heart and mind she car
ries her old New York library card with her everywhere, that is until she discovers a new blue card and a bookmobile.


Libraries provide access to books and the myriad of worlds contained in books. Spinelli explores the theme that with knowledge and imagination anything is possible — books can change lives in mysterious and powerful ways.
Each character faces a different challenge in his or her life and the library card played a role of acceptance for each character in each story.
There seems to be a strong element of magic in each of these stories. Does Spinelli intend us to take these stories at face value, or is their meaning as much symbolic as literal?
When I read the frontpiece of the book I was taken in, but this was not my favorite Spinelli book. Each story had snippets that I was taken with, and each held such possibilities. Oh well, it was the idea that counted!!
The View from Saturday

by E.L. Konigsburg
.
Now this one was a winner! What a unique book. The story of 4 sixth graders, chosen by their teacher to compete in the Academic Bowl as a team. The story weaves together the path of each of these kids and how their paths cross with each other and that of the development of the Academic Bowl Team. So how did Mrs. Olinsky know which students to choose for the team? Read it to find out!!
The Battle of the Book kids will love this book this next year, but it is the most difficult of the books chosen based on the intricate plot device. There's depth here. It's great!! BUT...they may need some patience and help.

One of my favorite books as a kid was

From the Mixed Up Files of Mrs. Basil E. Frankweiler

, also by Konigsburg. What fun to try her again!! Although it is not really for my third graders, the Battle of the Books kids will love it with the right guidance and adept coaching!! I'm think I'm ready to sign up for coaching right now!!