Reading a couple of books over vacation has gotten me thinking about who's on my

team

. Who is it in my life that suppo
rts me, cheers me on, and picks me up when I'm down. Who is it that may not always see things the same way I do but is willing to help me focus - find my passion, set some goals and help me achieve them.

Everyone needs a good

team

and yet many people I've talked to lately feel that they don't have that "

team

" support, that they are not really a "

team

" player, or that they don't k
now how to help the "

team

." I have more than a few thoughts on that after reading 5 more books on vacation and I never thought that they had a common thread until I remembered the "

team

" pre
mise.


The Loser's Guide to Life and Love
by A.E. Cannon is about four ordinary teenagers who each think that
they're not enough, who doubt their idiosyncrasies which give them their personalities and make them who they are. Narrated by each of the 4 different characters; Ed, Scout, Quark and Ellie, the story takes place during an ordinary summer in Salt Lake City.( I timed this to read while I was there and loved eating in the same places as the characters!! Yep, it's so often about the timing when you read a book! :) )

Ed and Scout work at a video store, wear s
tupid uniforms and quote great movie lines and plots. Ed even has to wear a name badge that says "Sergio." When not at the store Ed hangs out with his other be
st friend, Quark. One night Ellie, the girl of his dreams, walks into the video store and Ed thinks he will be a cooler person if he really IS Sergio!!


Have you ever wanted to be someone different? Talk with a different accent? Change your name? I have an actress frie
nd who makes up whole new characters and practices them when she goes o
ut on the town. It's part of keeping her "acting muscles" alive. But when Ed tries this he is caught up in a whole web of trouble! It's his "

team

" that helps him understand that what's most important is being yourself. They, along with Ed, discover what happens when we let go and drop the disguises that so many of us wear. They really do like the realness of themselves and each other and they realize that it takes courage to be yourself and love it - ordinary and all!

3.5/5.0




A Single Thread
by Marie Bostwick
was an easy read, a touch of chick lit of an older nature. It was a book about women and friendship. Friendship is the "single thread" that binds these people together through hard times.


Evelyn is newly single and turns her car towards the north; she never stops until she gets to New Bern, Connecticut. There, on a whim she opens a quilt shop and tries to spread her wings. But life has a way of knocking us down again and Evelyn discovers she has breast cancer. She is alone, thousands of miles from her family a
nd "
team
" - - interestingly enough 3 total strangers help her through it all. They become the "
team
" and do for Evelyn and each other what one could not do alone.
That's the way
teams
work. When one person loses the ball, the others pick it up. Strangers and people we don't even know come into our lives (when we let them) and help us in ways unimaginable.
This was ver
y readable and an easy way to spend a Sunday afternoon.

4.0/5.0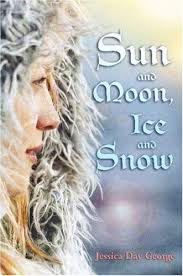 Sun and Moon, Ice and Snow

by Jessica Day George is based on the Nordic fairy tale "East of the Sun, West of the Moon" and shades of Beauty and the Beast. I loved the Norse language, their folktales and beliefs along with a mix of trolls and magic. Reading this was like a Jan Brett book for YA.

Jessica Day George is quickly becoming a favorite author. She delivers a great story line; one that is easy to immerse
myself in and one that keeps me reading. Her writing is smooth, clear, and clean. The story however is hard to paraphrase and really hard to review so I'll resor
t to the jacket flap:


"Blessed—or cursed—with an ability to understand animals, the Lass (as she's known to her family) has always been an oddball. And when an
isbjorn
(polar bear) seeks her out, and promises that her family will become rich if only the Lass will accompany him to his castle, she doesn't hesitate. But the bear is not what he seems, nor is his castle, which is made of ice and inhabited by a silent staff of servents. Only a grueling journey on the backs of the four winds will reveal the truth: the bear is really a prince who's been enchanted by a troll queen, and the Lass must come up with a way to free him before he's forced to marry a troll princess."
Who were those on the lass's "

team

"? A wolf, strangers (there really are people who want us to succeed and will help j
ust to help!) her family - they were mainly unseen and behind the scenes but she depended on their love and uplift! "

teams

" are like that - you might not know t
hey support you until you

really

need it! You just have to look for it!

I truly enjoyed this book!

4.5/5.0




Rebound Rules: The Art of Success

2.0 by Rick Pitino. Now I bet you see the "

team

" in this book! For those of you who may not know, I have some closet dreams and loves. One of them is college basketball. This fiery coach has caught the eye of many and reading his book was an insight into some of his passion. He is the only coach to have coached 3 different college teams to the NCAA Final Four (the Super Bowl of college basketball!) Interestingly he has been hit down many times by personal tragedy and has had to dig down deep inside himself to find his PHD (his passion, hunger and drive!)

More than anything Rick Pitino speak
s to the power of "

teams

." Those we should surround ourselves with and those

we

need to support as well. Pitino has found that his "

team

" includes his faith, his famiy, his friends, laughter, and letting go. This book is about remaking ourselves into someone better, seeing failures and tragedies as ways of deepening our character. The writing was spotty but I felt I could actively apply something from every page to my li
fe. I loved his PHD and aim to make that my motto at school this year for myself! I enjoyed his version of "

teamwork

!!"

3.5/5.0




Need
by Carrie Jones is a supernatural tale I instantly likened to Twilight. Now that's not all bad, it was just something I immediately noted. No vampires but there was a girl who went to live with a relative in a cold and cloudy place. She wasn't klutzy but she did collect phobias.

Zara White suspects that someone is stalking her. She sees him everywhere - paranoia is the name of that phobia!! But when Zara is shipped off to Maine to live with her grandma, she sees the stalker again. It turns out he is not Zara's imagination but a real mystery. He's someone who leaves trails of gold dust where he walks.

Yep, Zara was a pretty interesting character. I liked her spunk and determination and sympathized with her hollowness as she tried to heal after the death of her father. I did not feel the same about her boyfriend, Nick however. I just wanted his character to have a little more backbone and development! The story was predictable but I admit that I wanted to know the story and enjoy the ride.

Zara had a "

team

" to help her too. A really likeable friend named Issie and another named Devyn. Zara's grandmother, Betty, was a stitch - irrascable and endearing. No cookie baking grandma here. All of these characters pulled together in the story. It took all of them to sometimes physically if not emotionally lift the others, it took the "

team

" to unite and defeat the unknown. Another enjoyable book for a hot and sizzling summer day! (It really was great to read about a Maine blizzard when it was 116 outside here!).

4.0/5.0



Everyone needs a "

team

" - be they family, coworkers, Facebook friends, church family, neighbors, whatever or wherever...

George Shinn said, "There is no such thing as a self-made man. (or woman) You will reach your goals only with the help of others."

That's what I need a "

team

" for - to help me reach my goals, if only just to make it through a day. I want people on my side. My list of "

teammates

" has YOU on it to. Unseen and many times unspoken I realize that we are also a part of a supportive

team

and I am better for it!! Go

TEAM

!!